Introduction to Community Planning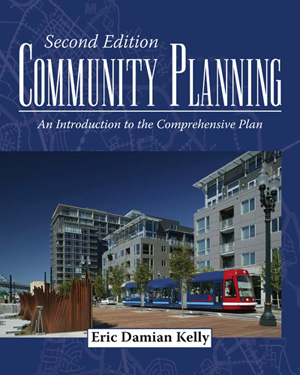 This book introduces community planning as practiced in the United States, focusing on the comprehensive plan. Sometimes known by other names—especially master plan or general plan—the type of plan described here is the predominant form of general governmental planning in the U.S. Although many government agencies make plans for their own programs or facilities, the comprehensive plan is the only planning document that considers multiple programs and that accounts for activities on all land located within the planning area, including both public and private property.
Written by a former president of the American Planning Association, Community Planning is thorough, specific, and timely. It addresses such important contemporary issues as sustainability, walkable communities, the role of urban design in public safety, changes in housing needs for a changing population, and multi-modal transportation planning. Unlike competing books, it addresses all of these topics in the context of the local comprehensive plan.
There is a broad audience for this book: planning students, practicing planners, and individual citizens who want to better understand local planning and land use controls. Boxes at the end of each chapter explain how professional planners and individual citizens, respectively, typically engage the issues addressed in the chapter. For all readers, Community Planning provides a pragmatic view of the comprehensive plan, clearly explained by a respected authority.
About the Website
This website provides additional resources and examples to supplement the book, chapter-by-chapter. Unlike some book websites, this one is not locked and limited to people who own the book. Anyone can use it, but it is not intended to be a freestanding text or reference. The materials on this site will make the most sense when used in conjunction with a copy of the book.
To navigate the site, use the right-hand column to search or browse by section, chapter or key term.